The Reflex Phase allows you to set an ambush for your opponent. Your Units that do not spend all of their Action Points (AP) during your turn can potentially trigger Reflex Phases during your opponent's Movement Phase.
If an opponent's Unit unwittingly wanders into the midst of your Units,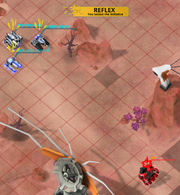 a Reflex Phase is triggered if all of the following conditions are true:
1. Your Unit is Battle Ready.
2. Your unit has more AP than the moving enemy Unit.
3. Your unit has not already taken or passed on an opportunity for a Reflex Phase while the moving enemy unit is still within your unit's Line of Sight.
During the Reflex Phase you can:
1. Pass (Ignore the target and Pass the turn back to your opponent).
2. Attack the target with any of your units that are part of the Reflex Group.
3. Play Cards (But not Call Cards).
What you cannot do during a Reflex Phase:
1. Move your units.
2. Play Unit Call Cards.
3. Attack with units not in the Reflex Group.
Notes:
* Calling a unit onto the battlefield will not trigger a Reflex Phase.
* If your Unit A passes on a Reflex Phase with enemy Unit B, and Unit B continues to move, triggering another Reflex Phase with your Unit C, your Unit A will be included in the Reflex Group with your Unit C if they still satisfy requirements 1 and 2 for triggering a Reflex Phase.